CCW President Address: COVID-19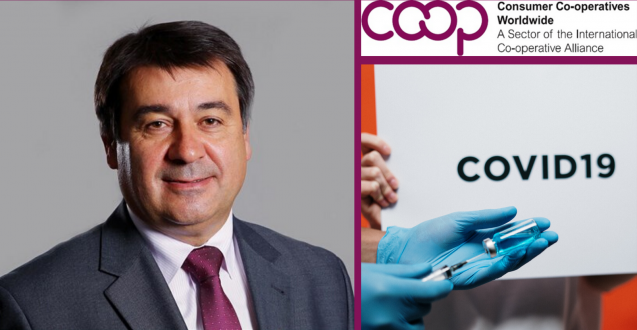 Dear CCW Members,
Dear Colleagues,
By virtue of this letter, I believe it is my duty as President of Central Cooperative Union - Bulgaria and President of CCW to share my thoughts, concerns and specific proposals at this time of COVID-19 pandemic, which is a very difficult time for the entire mankind. Perhaps what I am writing will not interest some of you, others may consider it as obsolete. But I unconditionally believe that the global cooperative movement, with its more than 1.2 billion individual members, through its elected governance bodies expects to hear about the specific actions undertaken by us, subject to our historically and globally recognised cooperative principles and values, which unite us and which we have upheld for more than 175 years.
In order to fulfil our mission and responsibility to the global cooperative movement, I propose each of us share their views and puts forward specific proposals based on the best cooperative practices. Practices which historically have proven their strength, role and importance of the cooperatives and their empathy to the governments' efforts to overcome crises similar to the one today. Cooperatives have united, they unite and will continue to unite the people not only at tough times, but they are also an opportunity for them to come out of the crises even stronger and more successful.
Historical experience is important and the conclusion from each crisis suffered is that despite of the specific public–economic conditions, the time in history and the challenges, our duty is one – to be close to the people and to help them as much as we can.
In a letter addressed to the leadership of the International Cooperative Alliance, today, I proposed that President Ariel Guarco and the Director-General should establish a Global Cooperative Crisis Staff to collect, analyse and provide information regarding the safety of the workplaces at the cooperative organisations, the sustainability of the cooperative business model, and most of all the care for the youth, mothers with children and particularly people over 65 years of age. Now is the time to show that the cooperative business model is free of speculation and is aimed at protecting the health and workplaces of the people in all regions throughout the world, turning this into a constant element in the day to day social responsibility policy.
What is most urgent is to try to find opportunities for joint action for fast supply of masks, gloves, thermometers, pharmaceuticals, disinfectants and other substances necessary for combating the coronavirus in the affected countries.
The lack of information, the silence, self-isolation are factors that can only harm us in the long-term politically, economically, socially but most of all cooperatively. I truly believe that none of us want this, and as responsible cooperative leaders we are not at liberty to allow this.
Petar Stefanov
Professor Doctor of Economic Sciences
CCU President
CCW President
ICA Board Member