ICA General Assembly 2022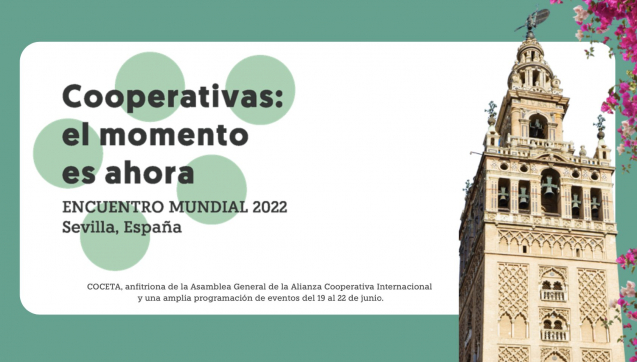 The next ICA General Assembly will be held on 20 June 2022 in Seville, Spain, and hosted by the Spanish Confederation of Worker Cooperatives (COCETA). General Assemblies are always important moments in the democratic life of organisation and after two years of forced virtualisation, the 2022 edition promises to be exceptional.
From a statutory point of view, it will report on the activity and will take stock of the structural and institutional progress of the ICA since our last elective meeting in November 2017. ICA members are invited to nominate candidates for the ICA President and Board. For more information, download the "Call for Board Nominations and Nomination Form 2022" below.
The ICA General Assembly will be preceded - from 10.30 am to 1.30 pm - by a panel discussion on the theme "Cooperatives: the time is now!". Organised by the Spanish cooperative movement, this debate will address major international issues. From 19 - 22 June other events, like thematic workshops, visit to cooperatives and more are part of the calendar of events that can be found below. The programme is still under development and will be available soon.
Click here to read an article including data on the Spanish cooperative movement and statements by the Presidents of ICA and COCETA.
Hotels
We recommend you book your hotel as soon as possible because June is high tourist season in Seville, so hotels are getting booked up fast. You can find a brochure downloadable at the bottom of the page with some proposals of hotels. Please note that from 4 April, the negotiated discounted rates with various hotels in Seville have expired. The main event hotel is the Silken Al-Andalus.
Visa
Delegates obliged to request visas for Spain should take into account that formalities may take some time. To help you to prepare your application to the consulate or embassy, please complete the Visa Form which can be found below and return it to [email protected]
Registration
Registration for the ICA General Assembly is separate from the series of events listed in the "calendar of activities".
For the ICA General Assembly, members will need to fill in a "voter designation form" which will be sent to members 30 days before the General Assembly along with the official meeting documentation. On this form, members will be able to register their voters, interpreters, and observers.
Registration will be open soon for the series of events and global conference on "Cooperativas: the time is now!" to be held in Seville, Spain from 19 to 22 June 2022.
Questions?
We hope this information will facilitate the participation process. Please do not hesitate to email:
The full
agenda
for the ICA General Assembly 2022 will be provided closer to the date and will include important items for decision such as election of the ICA Board, Approval of the 2021 Accounts, etc.