Can co-operatives redefine sustainability?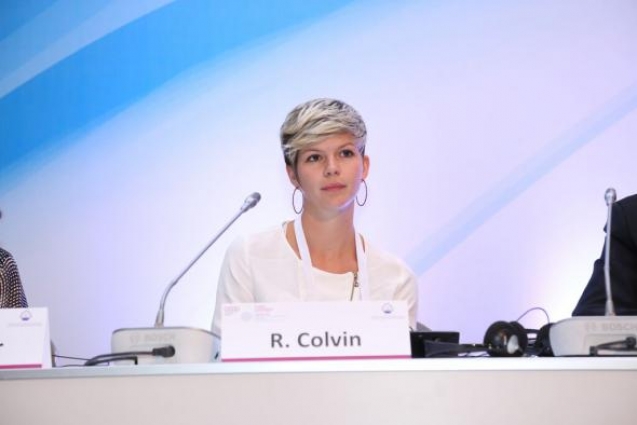 Sustainability was one of the main themes discussed at the International Co-operative Alliance's Global Conference in Antalya, Turkey. Different sessions featured presentations from co-operatives conducing in a sustainable manner.
Ben Reid, chief executive of the Midcounties Co-operative explained how sustainable development covered many areas of Midcounties' charitable giving, with 9% of their operating profit being allocated for a number of projects, including community grants. The society provides opportunities for colleagues to volunteer and recycles 83% of their waste. The Midcounties co-operative has also been a pioneer in terms of promoting the Fair Tax Mark and supporting renewable energy initiatives.
In the USA the National Co-op Grocers (NCG), a business services co-operative for retail food co-ops has developed a metrics programme to help their co-ops assess their sustainability based on a common framework. Robynn Shrader, chief executive of NCG, explained how the programme enabled co-ops to compare performance with other co-ops of similar size or operating in the same climate. All data is compiled into graphics, which can be incorporated into annual reporting or websites.
Another speaker that joined the debate on sustainability, Rhiannon Colvin talked about her work at Altgen, a co-operative that helps 18-29 year olds to set up worker co-operatives. She thinks co-operatives should "think about a new economics, rather than measure things".
"Rather than charge 5p for plastic bags, just don't have plastic bags at all, like Unicorn Co-operative with no food waste at all," she said.
Dirk Lehnhoff, president of Cooperatives Europe described how in Germany favourable legislation and support from the government resulted in 1,000 new renewable energy co-ops over the last five years. "For consumers costs are higher now, but it is the price we have to pay if we want a sustainable world," he said.
Housing is another area where co-operatives are making a difference in terms of sustainability. Since 1973 Co-operative Housing Ireland (formerly National Association of Building Co-operatives) has been supporting the creation of 5,000 homes across a mixture of tenures. The association has taken over unsustainable housing units left insolvent by developers and transformed them into co-operative housing. The co-op is already providing childcare services and is looking to provide co-operative care for elder people.
George Ototo from the Kenyan Union of Saving and Credit Co-operatives (KUSCCO) thinks sustainability is also dependant on the number of people in the movement. Mr Ototo explained how the union told staff that each should bring in a new person who is not a member of a SACCO. To attract more young people, KUSCCO is offering internships and parent accounts for children's pocket money.
In Mongolia agricultural co-operatives are working with the government in co-operative public partnerships. Vice president of the National Association of Mongolian Agricultural Co-operatives (NAMAC), Altantuya Tseden-Ish said: "Herder co-ops work sustainable in this very difficult economic situation of Mongolia". NAMAC helps them improve production by providing veterinary services, financial support and training to improve the livestock outcome.
Yuill Herbert of Sustainability Solutions Group argued that co-operatives by their very nature have a sustainability focus. "The environmental dimension is not well represented within co-op principles, an additional effort is needed but in general doing a business as a co-op is manifesting sustainability".