CCW Members Meeting Elects new Executive Committee 2016-2018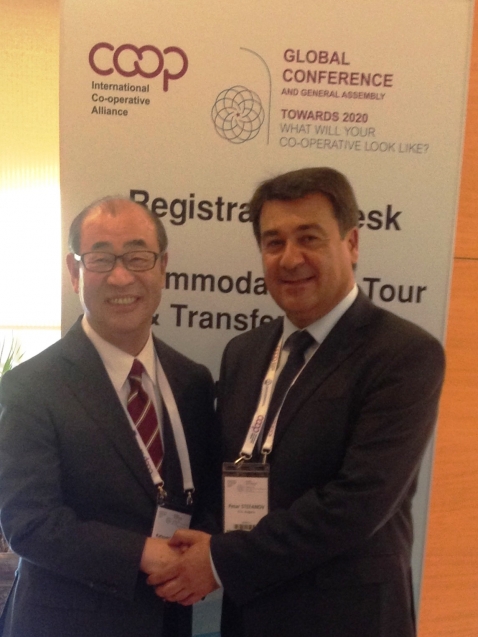 The bi-annual elections Members' Meeting of Consumer Co-operatives Worldwide (CCW) was held on 11 November 2015, within the framework of the International Co-operative Alliance General Assembly and Annual Conference, in Antalya, Turkey.
CCW's membership convened and discussed the following agenda:
Adoption of draft Agenda

Approval of the draft Minutes of the 2013 Members' Meeting

Elections for President and Executive Committee 2016-2018

Activity Reports: Americas, Asia-Pacific, Europe

Draft Activity Plan & Budget 2016: Preliminary Discussions
Naturally, the meeting's main objectives included a full review of the Executive Committee's past 2013-2015 mandate, and subsequently, the election of a new leadership for the next two years.
The meeting's quorum was guaranteed by the strong presence of members, as follows: out of a total 25 members, 17 confirmed their participation, of which 1 did not show up, and 16 were represented – 11 in attendance and 5 via proxies. CCW Members' Meeting quorums require the presence of 50% of all members. All decisions of the CCW Members' Meeting are done with simple majority.
Members unanimously elected the new Executive Committee for the mandate 2016-2018 with the following members:
| | | | |
| --- | --- | --- | --- |
| NAME | ORGANISATION | COUNTRY | POSITION |
| Petar Stefanov, PhD | Central Co-operative Union | Bulgaria | President |
| Katsumi Asada | Japanese Consumers' Co-operative Union | Japan | Vice-President |
| Duncan Bowdler | The Co-operative Group | UK | Executive Committee Member |
| Illia Gorokhovskyi | Ukoopspilka | Ukraine | Executive Committee Member |
| Juhani Ilmola | SOK Corporation | Finland | Executive Committee Member |
| Enrico Migliavacca | ANCC/COOP | Italy | Executive Committee Member |
| D.S.K. Pathirana | COOPFED | Sri Lanka | Executive Committee Member |
Robynn Shrader, outgoing President, reported on the activities of consumer co-operatives in the Americas for 2013-2015, briefly explaining the general advancements of her own organization - National Co-operative Grocers (USA), as well as those by Coop Obrera (Argentina), and Coop Brazil. Development of own-brand assortments, supply chains, community engagement and loyalty schemes were the main activities in the past two years.
Haruyoshi Amano – Director of International Affairs at JCCU presented the report of the ICA Committee on Consumer Co-operation for Asia-Pacific. The main activities include:
Regional Workshop for Managers on the Management of Consumer Co-ops (Singapore)

2 Training Programs for Managers of Consumer Co-ops (Japan)

Workshop on Development of Consumer Co-ops (sub-regional, member countires)

Consumer Committee meeting and seminar

Research and Data Collection.
Todor Ivanov – Secretary General of CCW/Euro Coop reported on the main work done by European consumer co-operatives. These included internal Secretariat optimization, lobby/advocating during the European election (2014), representing the consumer co-operative business model and Euro Coop's members before the European Institutions, collaborating with other European co-operative associations for sharing of services, thematic events on co-operative governance, own-brands, loyalty programmes, and advocating for the elimination of unfair trading practices along the European Supply Chain.
Looking ahead, members vowed to strengthen the global consumer co-operative family by increasing their participation within CCW by exchange of experience, knowledge, and best practices; as well as through organizing thematic events on significant issues to consumer co-operatives – such as governance, e-commerce, and membership strategies. Of course, there was a consensus for closer alignment of CCW's activities to the work done by the ICA for the further representation and advocating of the co-operative business model around the world.